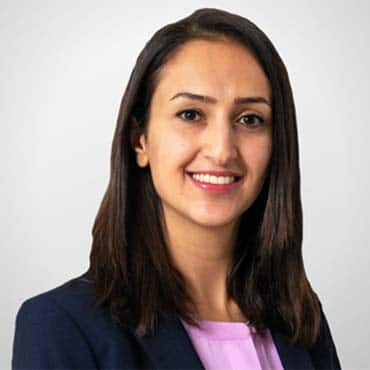 Dr. Niloufar Azami completed dental school at Isfahan University of Medical Sciences and her orthodontic residency at Shahid Beheshti University of Medical Sciences in Tehran, where she ranked third country-wide on Iran's national board examination.
Dr. Azami practiced orthodontics and served as an assistant professor in Iran for six years until deciding to further her career in the United States, at which time she joined the fellowship program at the Division of Orthodontics at the University of Connecticut Health Center. Dr. Azami was the only fellow to be accepted in the orthodontic residency, and has since been an integral part of the program, helping to teach the other residents and working in faculty practice.
Awards
American Association of Orthodontics Foundation: Research Aid Award
American Association of Dental Research Travel Bloc Grant
Iranian Dental Association Exceptional Performance Award
2019 Charley Schultz Resident Scholar Award, Second place Basic Science section
Publications
Cutrera A, Allareddy V, Azami N, Nanda R, Uribe F. Is short root anomaly (SRA) a risk factor for increased external apical root resorption in orthodontic patients? A retrospective case control study using cone beam computerized tomography. Orthod Craniofac Res. 2018 Nov 19.
Uribe F, Azami N, Steinbacher D, Janakiraman N, Nanda R. Skeletal open-bite correction with mini-implant anchorage and minimally invasive surgery. J Clin Orthod. 2018 Sep;52(9):485-492.
Villegas C, Azami N, Nanda R, Uribe FA. The zygoma and the symphysis: new extra-alveolar sites for long mini-implants. J Clin Orthod. 2017 Oct;51(10):680-689.
Tehranchi A, Behnia H, Younessian F, Kabiri S, Azami N. Management of costochondral graft overgrowth following treatment of condylar ankyloses: A case report. Regeneration, Reconstruction and Restoration 2016; 1(2): 86-69.
Nadjmi N., Tehranchi A., Azami N., Saedi B., Mollemance W. The comparison of soft tissue profile in lefort I osteotomy patients with Dolphin Imaging version 10 and Maxilim. American Journal of Orthodontics & Dentofacial Orthopedics 2013; 144(5):654-62.
On a personal note
When she's not working with patients, Dr. Azami enjoys reading history, seeing good movies, hiking and exploring the outdoors, and classical music.